Hike Grand Canyon Rim to Rim over 3 days
Hike Grand Canyon rim to rim from North to South and stay at Phantom Ranch! If you have considered training for the rim to rim hike, maybe you have even thought about attempting it in one day but want to take time to enjoy the beauty of the canyon, this trip is for you.
On a 3-day rim to rim hike you get the chance to enjoy and explore the Grand Canyon, even when time is short. This trip is fun, adventurous, challenging, and sure to build one-of-a-kind memories.
Why travel with AOA?: Find out more
Trip Price: $1595 pp
2018: + $41 PP (Permit/Land Use Fees)*
2019: + $74 PP (Permit/Land Use Fees)*
*Subject to change and will be based on actual costs at time of departure.
3 days, 2 nights
Difficulty: Advanced
Activity: Hiking, Camping, Lodging
Grand Canyon 3-Day Rim to Rim Trip
Price & Inclusions
Trip Price – $1595 pp
2018: + $41 PP (Permit/Land Use Fees)*
2019: + $74 PP (Permit/Land Use Fees)*
Price is per person
Shared occupancy in all accommodations.**
See our Promos & Discounts page for a list of multi-day trip promotions that may apply!
*Subject to change and will be based on actual costs at time of departure
**Find out more about solo accommodations under the "Rentals & Add Ons" tab below.
Trip Price Includes
Round-trip ground transportation from Phoenix/Scottsdale
Rim-to-rim luggage shuttle
Meals starting lunch Day 1 through dinner Day 3
Water and snacks
1 night camping near the North Rim of the Grand Canyon, 1 night lodging at Phantom Ranch
Tents, double occupancy
Sleeping pads
Basecamp gear (kitchen equipment, hand washing station, dish washing station, solar shower, camp chairs, etc.)
Dining and housekeeping gratuity
Professional Wilderness First Responder certified guide
Permits & Land Use Fees Include
Grand Canyon National Park entry and commercial fees
Not Included
Personal insurance and expenses
Air transportation to and from Phoenix/Scottsdale
Pre- or post-trip lodging
Breakfast Day 1
Sleeping bag (available to rent from AOA)
Day hiking pack (available to rent from AOA)
Please see the "Rentals & Add Ons" tab below for a list of available gear rentals and purchase options.
Trip Details
Trip Rating (1 – 5)
Fitness – 4.5
Comfort – 3.5
Solitude – 2
Guest Participation – 2
Click here for an explanation of AOA's trip ratings.
Note: This hiking trip is challenging and requires that all participants submit a letter of doctor's approval.*
Where to Meet
START: 8:00am on Day 1. Meet your guide in the lobby of the Holiday Inn Express in Old Town Scottsdale (CLICK HERE for map).
END: Drop-off at Holiday Inn Express in Old Town Scottsdale on Day 3 (usually between 7:00pm and 8:00pm).
GUESTS:  2 min to 9 max
Frequently Asked Questions
Q: How difficult is this trip?
A: AOA's 3 day Rim to Rim hiking trip is not for novice hikers. This hike requires that you are capable of hiking at a pace of 2 miles per hour or faster for a distance of 14 miles. We require that each trip participant submit a letter of approval from their doctor, verifying that they are physically fit to participate. You should expect to hike about 30 miles over 3 days with significant elevation change.
Q: When's the best time to go on this trip?
A: This trip is only available May 15th through October 15th due to National Park closures on the North Rim. The early and late season trips generally see slightly cooler temperatures in the inner canyon, while mid-season trips can be hotter. Snow is possible in May, September and October. The high elevation of the canyon rims provide refreshingly ideal weather throughout most of the rim to rim season. July and August tend to have significantly higher temperatures as well as greater likelihood of stormy weather.
Q: Why should I travel with AOA?
A:  Arizona Outback Adventures has been operating guided tours in the Grand Canyon for almost two decades. Our guides know the canyon intimately and are passionate and enthusiastic about this beautiful wilderness as well as experienced and certified in wilderness first aid. AOA promises to exceed your expectations in 5 key areas: Safety, Comfort, Food, Education, and Exceptional Guides. Our guests return to travel with us again and again. To hear what they have to say, read our Testimonials page.
Q: What are the trails like and how do I train for the trip?
A: Before hiking rim to rim in the Grand Canyon you should do significant training to ensure you will have a fun and unforgettable experience. The Rim to Rim Hike is a strenuous trip and is not recommended for novice hikers. On the second day we descend the North Kaibab Trail, losing 5,700 feet in elevation over 14 miles, for those with a history of knee problems this can present a serious challenge. The hike out ascends the Bright Angel Trail, gaining 4,300 feet of elevation over 10 miles.
Q: What sort of accommodations are included on this trip?
A: The 3 Day Grand Canyon Rim to Rim hiking trip includes one night of camping on the Grand Canyon North Rim and one night at Phantom Ranch. Standard reservations are for double occupancy tents and gender specific dormitories at Phantom Ranch. If you are traveling with a companion or group, we will ask you for the name of the person you prefer to share with  for the accommodations on the rim of the canyon. Those who are traveling alone will be assigned a roommate of the same gender. Purchasing a solo occupancy upgrade grants you a private tent during the stay on the North Rim, accommodations at Phantom Ranch are in the gender specific dormitories.
Still have questions? Read our detailed Grand Canyon trip FAQ.
Grand Canyon Information
Some say you haven't lived until you have hiked in the Grand Canyon. A guided trek through the heart of the canyon and will leave you with a sense of accomplishment, awe, appreciation, and love of the grandest place on earth.
The Grand Canyon is a complex and mysterious place that continues to evolve. As the canyon itself is constantly changing, so too are the hypotheses as to how it was formed. New questions and discoveries are nearly as plentiful as the visitors who come to gaze into the vast chasm. Geologists, archaeologists, and adventurers alike have been canvassing the canyon for decades trying to come to some sort of understanding of the place. The canyon is still very much a wild frontier.
How old is the Colorado River? What sort of creature created this fossil? How is it that rocks only 500 million years old are found at the same altitude as those that are nearly a billion years old? Why is a type of rock found in one area of the canyon and not another?
Geologists are able to date the ages of the rock layers with accuracy. We know that the oldest rock layer, the Vishnu Schist, lies deepest within the canyon and is the layer through which the Colorado River currently flows. This ancient Vishnu Schist is considered some of the oldest exposed rock in the world, dating its birth to approximately 1.7 billion years ago. Scientists generally agree upon the ages of the rock layers and the means by which they were formed, but it is the age of the canyon itself that is debated. Some say the river began cutting into the canyon a mere 5 million years ago, others claim it was as long ago as 70 million. By as recently as 1.2 million years ago, Grand Canyon had come to look much the same as it does today. The beautiful and complex rock layers that have been exposed offer a glimpse into the incredible tectonic forces that have impacted this part of the world over a span of nearly two billion years.
For more information on Grand Canyon flora and fauna, geology, and weather visit the Grand Canyon Natural History Page.
Recommended Reading List
Grand Canyon National Park, a Natural History Guide – Jeremy Schmidt
It Happened at Grand Canyon – Todd R. Berger
Grand Canyon Treks: 12,000 Miles Through the Grand Canyon – Harvey Butchart
References
Learn more about Grand Canyon National Park.
Rentals & Add Ons
Solo Accommodations Upgrade
$25 pp
Non-Participant Package
$230 pp
*Limited to one non-participant per hiker, only available in partnership with a hiker already booked on a trip.
Package includes:
Round-trip transportation from the Holiday Inn Express Hotel and Suites in Old Town Scottsdale
National Park entry fees
Transportation from North Rim to South Rim on Day 2
Meals: lunch and dinner Day 1, breakfast Day 2, dinner Day 3
Shared tent with hiker for Night 1 in North Rim Campground
Bottled water and snacks while in AOA vehicle
Does not include:
Day 1 breakfast, Day 2 lunch and dinner, Day 3 breakfast and lunch
Airfare to and from Phoenix/Scottsdale
Pre- and post-trip accommodations (we recommend the Holiday Inn Express and have special rates there)
Lodging on Day 2
Airport transfers
Optional AOA Guide gratuities
Personal insurance and expenses
Gear Rental
Sleeping Bag and sheet set ($25 per set)
30 to 40 liter daypack ($15 per pack)
Trekking poles (complimentary upon request)
Optional Additions 
Purchase: 3-liter Camelbak reservoir/bladder ($35 per)
Optional upgrades, additions, and rentals subject to tax (7.95%).
Trip Dates
Dates
2018 Trips
July 19-21
July 27-29
August 10-12
August 17-19
August 23-25
August 24-26
August 30- September 1
September 5-7
September 9-11
September 18-20
October 7-9
October 20-22
October 22-24
2019 Trips
May 18-20
May 30- June 1
June 8-10
June 14-16
June 20-22
June 21-23
July 5-7
July 6-8
July 12-14
July 20-22
July 21-23
July 25-27
July 26-28
July 27-29
July 28-30
July 30- August 1
HEAT PROTOCOL
It's possible that trips offered during the months of June, July, and August may follow special heat protocol to ensure the safety and enjoyment of all participants. Read through the trip itinerary to see how trips operated under heat protocol differ.
Check out this great article from Arizona Daily Sun to learn about the benefits of hiking Rim to Rim at night (pre-dawn).
To see all multi-day guided tours, visit our Adventure Tour Calendar.
Cancellation & Trip Policies
Reservations, Payments and Cancellation
Grand Canyon tours are very popular and advanced planning is often necessary. We recommend making your reservations at least 3 to 5 months in advance. We can accommodate last-minute bookings provided space is available, so please call our office to check.
This trip confirms with 2 guests. Grab a friend and your trip is guaranteed!
Please note that for the Rim to Rim hiking trip, a letter of doctor's approval is required for each participant.
We strongly recommend that you purchase "travel insurance." This is a valuable tool that will protect your trip investment.
For more details please see our comprehensive Trip Policies and Payments page.
Essential Eligibility Requirements
AOA's goal is to provide challenging and meaningful experiences through guided and self-guided tours to unforgettable destinations. These criteria have been developed to help our guests identify the skills and abilities needed to successfully and fully participate in these tours. If you are unable to meet certain criteria, please contact us; we may be able to assist you with reasonable accommodation(s) unless it would change or otherwise risk the fundamental nature of the tour, would compromise your safety or the safety of other participants or guides, or would place an undue financial or administrative burden on AOA.
See the complete Essential Eligibility Requirements.
Travel Insurance
We recommend Travel Guard insurance.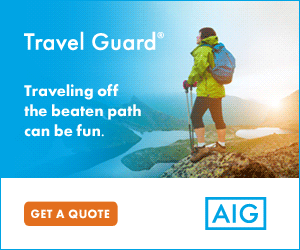 Trip Itinerary
Overview
Carrying only day-packs, we begin on the North Rim of Grand Canyon and hike down North Kaibab trail to spend one night at world famous Phantom Ranch located in the bottom of the canyon. After a restful night staying in the dormitories at Phantom Ranch, we will make the long hike to the South Rim along the classic Bright Angel Trail. Join us on one of most desirable, and the most challenging, hikes in the world. This is a strenuous trip for which we require a written letter of approval from your doctor.
DAY 1: DRIVE FROM SCOTTSDALE/PHOENIX TO THE GRAND CANYON NORTH RIM
8:00am Today we shuttle from Scottsdale/Phoenix to the Grand Canyon North Rim with some interesting stops along the way. We break at Cameron Indian Trading Post. Established in 1916, it is a famous showplace for fine Native American and Southwestern art, as well as a perfect lunch spot. Then we'll explore Navajo Bridge, just downstream from Lee's Ferry which is the launch point for rafting the Grand Canyon's mighty Colorado River. Day's end will find us setting up camp and enjoying a sunset stroll to stretch the legs before dinner in this spectacular setting.
Hiking: 0‐2 miles
Meals: Breakfast on own, lunch and dinner included
Lodging: Established campground near the North Rim
DAY 2: HIKE DOWN THE NORTH KAIBAB TRAIL TO PHANTOM RANCH
Get ready for a challenging trek into the heart of the canyon! Today's descent is 14 miles and 5,700 feet into the grandest of canyons! On today's trek we traverse through nearly every biological life zone in North America. As we drop from the alpine to the desert, each step takes us thousands of years back in geologic time through ancient oceans, deserts, lakes and swamps. With mind-blowing vistas, fascinating trail design and workmanship, 100-foot tall waterfalls, and green spring-fed oases, the North Kaibab Trail is a national treasure. The end of our hike brings us to Phantom Ranch, nestled on the banks of Bright Angel Creek not far from its confluence with the Colorado River. Phantom Ranch was originally founded in 1903 as a hunting camp and named by Mary Jane Colter after nearby Phantom Creek.
Heat Protocol: Today's challenging 14 mile descent will begin with an "alpine start." The exact timing will be at the discretion of the guide, but hikers can expect to eat breakfast and begin hiking well before sunrise. There is a certain allure to these early summer mornings. Grand Canyon's North Rim is extremely remote which means there is very little light pollution and incredibly dark skies and bright stars! As the morning approaches, you'll witness the canyon awaken and have the rare treat of experiencing your first canyon sunrise deep within the backcountry. Arriving at Phantom Ranch at an early hour allows for more time to relax in the inner canyon, soaking your feet in the Colorado River or enjoying a cold beer at the Canteen.
Hiking: 14 miles (trailhead is at 8,200 feet – Phantom Ranch is at approximately 2,500 feet – TOTAL elevation loss of 5,700 feet)
Meals: Breakfast, lunch and dinner included
Lodging: Phantom Ranch same-gender dormitories
DAY 3: ASCEND THE BRIGHT ANGEL TRAIL TO THE GRAND CANYON SOUTH RIM VILLAGE AND RETURN TO SCOTTSDALE/PHOENIX
Today we are up with the sun and ready to conquer the canyon. We will complete our rim to rim with an ascent up the Bright Angel Trail, a classic Grand Canyon trek! After crossing the Colorado River, the trail snakes its way up and out of the inner gorge to Indian Gardens, a welcome oasis. Here, we refuel and refill with water before tackling the steep ascent up Jacob's Ladder through the Redwall layer. While always a tremendous challenge, your guides will provide you with helpful hints, strategies, and techniques to keep you excited and energized along the way. With proper preparation, hydration, and diet, the entire group will soon be high-fiving and hugging on the rim. We will celebrate our accomplishment and enjoy some free time to check out the many shops and museums at the South Rim Village. We will make a stop in Flagstaff for dinner, before continuing on to Scottsdale/Phoenix. We will return between 7:00pm‐8:00pm.
Heat Protocol: As on your descent into the canyon, it will be extremely important to begin today before the sun is up. Hiking out of Grand Canyon is extremely challenging so your guide will be very conscientious of your water consumption and exertion as the temperatures rise. The hike along Bright Angel trail boasts the welcome oasis of Indian Garden approximately halfway through your hike. Depending on the day's temperatures, group fitness and comfort levels, it is possible your guide may require an afternoon siesta at Indian Garden to wait out the hottest part of the day in the shade before continuing on to your destination at the Rim. Here you can relax beneath shady cottonwood trees and soak your feet in Garden Creek. We encourage you to take a load off and appreciate these extra moments beneath the bustle of the Canyon Rim.
Hiking: 10 miles (Phantom Ranch is at approximately 2,500 feet – trailhead is at 6,800 feet ‐ TOTAL elevation gain of 4,300 feet)
Meals: breakfast, lunch and dinner included
Lodging: On your own
Note about itinerary changes: We do our best to operate each trip as closely as possible to the published itinerary, however there are sometimes forces outside of our control that could require us to make adjustments to the operations of a trip. These include but are not limited to weather, natural disasters, road closures, park closures, campsite availability, emergency guest illness or injury.
Check out this trip's route
Click here to see the route we take for our 3-day Rim to Rim hiking trip.
Tips for Planning a Rim to Rim Hiking Trip:
A Rim to Rim hiking trip takes a lot more time and planning than most realize, read up on what it takes to go by yourself, as an organized group, or guided!
Hiking Rim to Rim over a few days is an incredible challenge. While quite the achievement, here's are 5 reasons you shouldn't hike Rim to Rim in one day.
Need help choosing a backpack for your upcoming hiking trip? We've created a guide on how to find the right backpack for hiking and backpacking.