Spend 5 days hiking and camping on the Grand Canyon's North and South Rim
Join our guided hiking trip in Grand Canyon National Park for 5 days of camping while exploring all there is to see on the canyon's north and south rims. On this adventure, expert guides help us explore both the south and north rims and hike on some of the most famous trails in the country! By visiting and camping on both rims of the canyon, we gain a unique perspective and understanding of the canyon that most don't experience.
Perfect for groups of friends, active families, and single travelers, this guided adventure of Grand Canyon National Park provides comfortable camping, access to iconic and hard-to-reach wilderness areas, high adventure, and all logistics. With food, available rental gear, and the complex details taken care of you can relax and enjoy your vacation.
Why travel with AOA?:Find out more
Trip Price: $1425 pp
2018: + $43 PP (Permit/Land Use Fees)*
2019: + $72 PP (Permit/Land Use Fees)*
*Subject to change and will be based on actual costs at time of departure.
5 days, 4 nights
Difficulty: Moderate
Activity: Hiking, Camping
This trip confirms with 2 guests!
Grand Canyon Hiking & Camping Details
Price & Inclusions
Trip Price- $1425 pp
2018: + $43 PP (Permit/Land Use Fees)*
2019: + $72 PP (Permit/Land Use Fees)*
Price is per person.
Do you have five minutes to save $25? Use the promo code 25for5 at checkout and get $25 per person off your trip price when you take 5 minutes to complete your guest profile and sign your waiver! Profiles and waivers are due no later than 1 week after booking to cash in on this promotion!
See our Promos & Discounts page for a list of multi-day trip promotions that may apply!
*Subject to change and will be based on actual costs at time of departure
Trip Price Includes
4 nights camping (2 at Mather Campground and 2 at North Rim Campground)
Roundtrip transportation from host hotel in Scottsdale, AZ
Basecamp gear (kitchen equipment, hand washing station, dish washing station, camp chairs, etc.)
Meals starting on lunch Day 1 through lunch Day 5
Water and snacks
Professional Wilderness First Responder certified guides
Permits & Land Use Fees Include
Grand Canyon National Park entry and commercial fees
Wupatki National Monument entry and commercial fees
Not Included
Personal insurance and expenses
Airfare to and from Scottsdale, AZ
Pre- or post-trip lodging
Breakfast Day 1, dinner Day 5
Tent (available to rent from AOA)
Sleeping bag (available to rent from AOA)
Sleeping pad (available to rent from AOA)
Day hiking pack (available to rent from AOA)
Please see the "Rentals & Add Ons" tab below for a list of available gear rentals and purchase options.

Trip Details
Trip Rating (1 – 5)
Fitness – 3
Comfort – 3
Solitude – 3
Guest Participation – 4
Click here for an explanation of AOA's trip ratings.
Where to Meet
START: 7:00am on Day 1. Meet your guide in the lobby of the Holiday Inn Express in Old Town Scottsdale (CLICK HERE for map).
END: 5:00 – 7:00pm on Day 4. Guides will return all travelers to the Holiday Inn Express in Old Town Scottsdale.
GUESTS: 2 min to 12 max
Frequently Asked Questions
Q: When's the best time to go on this trip?
A: This trip is only available May 15th through October 15th due to National Park closures on the North Rim. The early and late season trips generally see slightly cooler temperatures in the inner canyon, while mid-season trips can be hotter. Snow is possible in May, September and October. The high elevation of the canyon rim provides refreshingly ideal weather throughout most of the season. July and August tend to have significantly higher temperatures as well as greater likelihood of stormy weather.
Q: What are the hikes like and how do I train for the trip?
A: Before embarking on any Grand Canyon hiking trip you should do significant training to ensure your trip will be an enjoyable and memorable experience. For this particular guided hiking adventure, you should feel confident in your ability to walk for at least 10 miles over loose uneven surfaces in a single day and for as many as 30 miles over the duration of the trip. Remember to carefully read the information packet you receive at the time of booking for more detailed information about training.
Q: What sort of accommodations are included on this trip?
A: We will be staying in public campgrounds in the National Park we'll be visiting. The campgrounds have restroom facilities, running water, and hot showers. If you need gear, AOA can rent comfortable, inflatable sleeping pads, as well as over-sized nylon tents with full-coverage rain flys. These tents are built for 4 people but we recommend using them for just one or two people to provide for ample extra space for your personal items. Your AOA Guides will set up a kitchen in which they will prepare all food. We pride ourselves on our restaurant-quality meals, served hot, with fresh produce to compliment.
Recommended Reading List
I am the Grand Canyon – Stephen Hirst
Grand Canyon: Solving Earth's Grandest Puzzle – James Lawrence Powell
Grand Canyon: True Stories of Life Below the Rim – Sean O'Reilly, James O'Reilly and Larry Habegger, Editors
Over the Edge: Death in Grand Canyon – Michael P. Ghiglieri and Thomas M. Myers
References
Rentals & Add Ons
Gear Rental
4-Person Basecamp Tent ($55 per tent)
Inflatable sleeping pad ($35 per pad, sleeping pads add insulation and are required on AOA trips)
Sleeping bag and linen set rental ($35 per)
30 to 40 liter daypack ($25 per pack)
Trekking poles (complimentary upon request)
Optional Additions 
Purchase: 3-liter Camelbak reservoir/bladder ($35 each)
Optional upgrades, additions, and rentals subject to tax (7.95%).
Trip Dates
Dates
2018 Trip Dates
September 7-11
September 25-29
October 2-6
October 11-15
2019 Trip Dates
May 17-20
May 31- June 3
June 14-17
June 25-28
July 12-15
July 26-29
August 9-12
August 23-26
September 6-9
September 24-27
October 1-4
October 10-13
To see all multi-day guided tours, visit our Adventure Tour Calendar.
Cancellation & Trip Policies
Reservations, Payments and Cancellation
Grand Canyon hiking tours are very popular and advanced planning is often necessary. We recommend making your reservations at least 3 to 5 months in advance. We can accommodate last-minute bookings provided space is available, so please call our office to check. Each trip requires a minimum number of participants for departure. Arizona Outback Adventures (AOA) reserves the right to cancel scheduled trips that do not meet minimum sign-up requirements.
This trip confirms with 2 guests. Grab a friend and your trip is guaranteed!
We strongly recommend that you purchase "travel insurance". This is a valuable tool that will protect your trip investment.
For more details please see our comprehensive Trip Policies and Payments page.
Essential Eligibility Requirements
AOA's goal is to provide challenging and meaningful experiences through guided and self-guided tours to unforgettable destinations. These criteria have been developed to help our guests identify the skills and abilities needed to successfully and fully participate in these tours. If you are unable to meet certain criteria, please contact us; we may be able to assist you with reasonable accommodation(s) unless it would change or otherwise risk the fundamental nature of the tour, would compromise your safety or the safety of other participants or guides, or would place an undue financial or administrative burden on AOA.
See the complete Essential Eligibility Requirements.
Travel Insurance
We recommend Travel Guard insurance.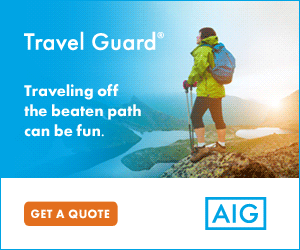 Trip Itinerary
Overview
On this five day adventure we explore the popular and iconic South Rim and the more scenic North Rim of Grand Canyon National Park. On the South Rim we'll get to experience this historic tourist destination in a way that few travelers do. By dropping below the rim and hiking into the canyon's depths, we are among the one percent of visitors that take their adventure to the next level. From the South Rim we'll head east to Lee's Ferry where we can cross the Colorado River and head on to the North Rim. Compared to the hustle and bustle of the South Rim, the North Rim is a more solitary experience. While there, we get a whole new perspective on the Grand Canyon and will both descend the North Kaibab Trail as well as explore the vistas and capes. Before heading back to Scottsdale we'll walk amongst an ancient Puebloan village at Wupatki National Monument and see volcanic remains at Sunset Crater National Monument.
DAY 1: DEPART PHOENIX/SCOTTSDALE, HEAD TO THE SOUTH RIM OF THE GRAND CANYON
7:00am – Today we shuttle from Scottsdale/Phoenix to the South Rim of Grand Canyon National Park. We'll work our way up to iconic Mather Point where we'll have our first lunch with a view. Mather Point was named after the first director of the National Park Service, Stephen Mather, and is the Grand Canyon's most popular overlook. From Mather Point we will stretch our legs on the Rim Trail and soak up some incredible canyon views on our way to the geology museum and on into Grand Canyon Village. Within Grand Canyon Village we'll take time to visit Kolb Studio and the El Tovar Hotel. Kolb studio was built back in 1905 by two brothers from Pennsylvania. They operated a small photography studio that catered to hikers on the Bright Angel Trail. The El Tovar Hotel started as a railroad destination and was designed in a rustic style reminiscent of a Swiss chalet. After we've had a taste of the canyon and the history we'll head into our camp at Mather Campground to set up our temporary home and have our first guide-prepared meal.
Hiking: 2-4 miles
Lodging: Mather Campground in Grand Canyon National Park
Meals: Lunch and dinner included
DAY 2: THE GRAND DESCENT
Today we start with an early morning paired nicely with a delicious guide-prepared breakfast. We'll get a jump on the day to get the most out of our trek down the famous Bright Angel Trail. With a fair bit of shade and seasonal water availability, the amenities on the Bright Angel Trail make for a comfortable and manageable day-hiking trail for most. Today we will potentially make it all the way down to Indian Garden at an impressive 4.6 miles and 3,040 vertical feet down into the grandest of canyons. There are several other great spots to turn around as well including 1.5-mile Rest House and 3-mile Rest House. Indian Garden is a common camping destination for backpackers and was once home to the Havasupai people who still to this day live within the canyon walls, though no longer in this part of the canyon. Indian Garden is an excellent spot for lunch and we'll likely fuel up near the babbling stream before starting our ascent. In the Grand Canyon the saying goes "down is optional, but up is mandatory" so we'll head right back up the Bright Angel Trail and back to the rim. Though today's hike can be challenging, the overwhelming feeling of accomplishment upon reaching the rim again is palpable. Once back to camp your guide will be busying themselves with preparing another great meal and preparing you for the following day.
Hiking: 6-10 miles
Lodging: Mather Campground in Grand Canyon National Park
Meals: All meals included
DAY 3: FROM RIM TO RIM
This morning, we get an early start to catch sunrise over the South Rim before having breakfast and breaking down camp. We'll have a short transfer out to Grandview Point to start our hike down the Grandview Trail. This hike will give us a sense of solitude and stunning views of the inner formations of the canyon. We will hike just over a mile to the Coconino Saddle, and will lose an impressive 1,600 vertical feet! This trek will surely loosen up any sore muscles you have from hiking the Bright Angel Trail. After topping out, we have a short drive to the Desert View Watchtower where you can explore while your guide prepares lunch. The Watchtower was designed by Mary Colter and is an impressive 70-foot stone structure that winds its way into the skyline. Within the tower there is a wealth of murals depicting several Hopi traditions and stories. Following lunch, we travel on to Navajo Bridge near Lee's Ferry where we can get an up-close view of the Colorado River, after which we make our way to the north rim of Grand Canyon National Park. After setting up our camp, there is an option for a short sunset walk to Bright Angel Point. Tonight, we have yet another delicious guide-prepared dinner before settling in.
Hiking: 3-5 miles
Lodging: North Rim Campground in Grand Canyon National Park
Meals: All meals included
DAY 4: CANYONS AND CAPES
After breakfast this morning, we'll take a short drive to the North Kaibab Trail, the main artery for hikers heading from the north rim into the inner canyon. Today we descend 800 vertical feet into the canyon to Coconino Overlook for great views of not only the canyon but also of the San Francisco Peaks, giving us over 10,000 feet of vertical scenery. Once we return to the rim we head out to Cape Royal for lunch and the opportunity to explore a natural arch, Angel's Window. After lunch we take a forested hike out to Cape Final where we can see one of the Grand Canyon's more iconic formations, the Vishnu Temple. Day's end will find us at the rustic North Rim Lodge for a celebration dinner.
Hiking: 5-6 miles
Lodging: North Rim Campground in Grand Canyon National Park
Meals: All meals included
DAY 5: FROM NORTH RIM TO SCOTTSDALE/PHOENIX
After breakfast and breaking down camp we say goodbye to the North Rim and hop back into the van. Though we do have a lengthy drive ahead of us, there are still sights to see and worthy detours. Our drive will bring us to two different national monuments, along the way we will stop and have a picnic lunch. First on the docket is Wupatki National Monument where ancient pueblos dot the landscape between the high country of Flagstaff and the lower Painted Desert. Just a short drive past Wupatki is Sunset Crater National Monument. Here we experience first-hand both how destructive and adaptive nature can be by exploring ancient lava flows and cinder cones, hearkening back to a time when the area was volcanically active. Waving farewell to Sunset Crater, we arrive back to the signature cacti of Scottsdale/Phoenix between 5:00 – 7:00pm.
Hiking: Exploratory hiking (up to 1 mile)
Lodging: On your own tonight
Meals: Breakfast and lunch included
Note about itinerary changes: We do our best to operate each trip as closely as possible to the published itinerary, however there are sometimes forces outside of our control that could require us to make adjustments to the operations of a trip. These include but are not limited to weather, natural disasters, road closures, park closures, campsite availability, emergency guest illness or injury.
CHECK OUT THIS TRIP'S ROUTE
Click here to see the trail routes we hike on this guided hiking trip.
Tips for Planning a Trip to the Grand Canyon
What's the difference between backpacking and hiking is something everyone should know the answer to before setting off on any hiking trip in the Grand Canyon! Get in the know here.
Need help choosing a backpack for your upcoming hiking trip? We've created a guide on how to find the right backpack for hiking and backpacking.
When it comes to the geology of the Grand Canyon, guests have many questions. Our guides are very knowledgeable on this topic, but we thought we would write up a short Grand Canyon Geology Lesson just in case your curious before you explore the beauty of the Grand Canyon yourself.